Browse Our Bar Staff Uniform Products
No matter the style of your bar, we've got what you need to have your staff dressed in great looking practical uniforms. Creating the right impression to customers is vital in the catering and hospitality sector and one way to communicate your cleanliness, professionalism and level of attention to detail is through the bar staff uniforms your team wears.
Shirt and Blouses
The basis of most bar staff uniforms will probably be a shirt or blouse. We have a great selection of different options to get you started.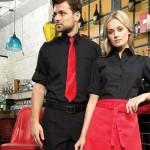 With choices in long sleeve, short sleeve and roll sleeve, as well as cap sleeve and ¾ sleeves in the women's blouse options, we can offer a broad range of different looks. Most of our shirts and blouses have fused collars and are made from a combination of cotton, polyester and Lycra for a durable and comfortable fabric. They're also lightweight at just 120 grams a square metre.
If you have more colourful requirements of your uniform shirts then we've got the answer here as well. With our light but tough Poplin shirts and blouses, again with different sleeve options, we can provide a great collection of colours to match your bar's colour scheme and design. With colours including Aubergine, Sunflower, Lime and Steel we've really got something for every need.
For a more casual look for your bar staff in a more relaxed atmosphere, we can provide both men's and women's polo shirts. With our polyester and cotton mix polo shirts, there is again a great choice of colour options. Our ladies polo shirts have a more flattering fitted look, and we have Coolchecker polo shirts with a stylish knitted colour which makes for a smart alternative to the more typical formal shirt.
Aprons
In most bar work, having an apron to both protect your uniform and to help keep your hands free is a really vital addition to your bar uniform and we've got plenty of options.
We have several different lengths of apron, from the Deli apron, to the shorter waist apron and the mid length bar apron. We've some great practical solutions as well, with different pocket options, zips, pen pockets and our apron wallet, which is attachable by the apron's waist ties or by a separate belt. The apron wallet is perfect for carrying around notepads and portable payment terminals, for which there is an increasing need.
Embroidery
To personalise your uniforms and add a classy branded finish, we also provide a really straight forward embroidery service for our uniform choices. Whether you're looking to embroider brand logos or insignia, or simply some text such as employee names or roles to identify your staff, all you need to do is to click the button on the item you're browsing and choose your preferences. For anything from Chefs Clothing with our Personalised Chef Whites to Bar Uniforms, embroidery is a great way to add a professional flourish to your staff's work wear.
Personalising your bar staff uniforms is a great way to communicate your brand's messages to customers as well as fostering a greater team identity and morale which studies show can improve performance.