Waitress Uniforms - Bars & Hotels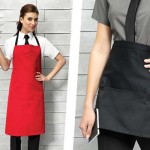 We have ladies' blouses in all varieties of sleeve length and style. The 'capped' sleeve blouse features the particularly short sleeve look, just covering the top of the shoulder and is a classic look for waitress and bar staff. The blouse is finished with an open neck fused collar and curved front panels with piping detail for a more fitted shape.
There is also a short sleeve version, with the sleeve extending as far as the elbow, and a ¾ sleeve, which has turn back cuffs. With a wide choice of sizes, these blouses are an ideal starting point for any smart waitress uniform.
For a more casual waitress uniform, we have ladies' polo shirts, with a polyester and cotton mix. Also in our range are Coolchecker polo shirts, which have a side panel detail to flatter the female figure. Both of these come in a wide selection of different colours. Choose Bottle Green, Hot Pink, Lime, Sapphire and more.
Our Poplin options, come in short and roll sleeve varieties. The roll sleeve option comes with a sleeve button tab for sleeves to be rolled up neatly and easily and a left breast vented jet pocket. The short sleeve has soft collar styling and bust and back darts for a more flattering fitted shape. It also comes in a choice of many different colours, including Aqua, Aubergine, Strawberry Red and Turquoise.
With Poplin, a particularly durable and lightweight fabric, these are a great choice for your waitress uniforms.
Aprons for Waitress Uniforms
We've got plenty of different apron options too. With a really useful pouch which can be attached with the aprons ties or a separate belt, the Apron wallet is a practical addition to your waitresses requirements and comes in several different colour options. The Bistro Apron is knee length, with self-fabric ties and a handy pen pocket. Or, for a more continental style, there's the Colours Bar Apron, which as the name suggest, is available in a broad collection of colours including Emerald, Lemon and Sage.
Also in the Colours Apron range, is the three pocket variation. A shorter style wrap around apron, again coming with plenty of colour options.
Showing all 23 results