Browse our Catering Uniforms
Catering Uniforms. It's our name and it's what we do. If you need uniforms for any purpose in the catering and hospitality sector then you're in the right place. We have a varied range of work wear for kitchens and catering to be able to provide you with exactly what you need.
Kitchen Uniforms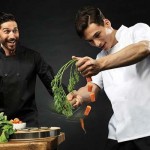 In restaurants and catering, the uniforms and dress code of the staff are particularly important in showing high standards of cleanliness and attention to detail. Show customers both existing and potential the quality and professionalism of your service.
Our classic and elegant chef whites are ideal for this purpose. With a collection of different styles, fastenings and multi-coloured jackets you'll be able to equip your staff for a demanding kitchen environment. With practicality and style in mind, our Coolmax jackets have mesh panelled backs for keeping your staff cool. With both unisex and ladies jackets we can cater for every need.
As well as our chef jackets, we also have classic striped chefs aprons and half aprons, tall chef hats as well as the essential chequered chefs trousers to complete the look.
Waiting Staff
With our varied shirt choices you can have your waiters and waitresses neatly presented and coordinated without breaking the bank. As well the formal long and roll sleeve button up shirts, we also have more modern polo shirt options. These have both long and short sleeve options. Our shirts are available in a whole range of different colours to match the scheme of your restaurant.
Our selection of aprons includes waist aprons, with several different practical pocket options. We also stock long bar aprons, bistro aprons with fabric ties and handy pen pockets.
To make sure your uniforms are part of a consistent look and  identity of your restaurant or catering service, we've a wide collection of colour options to consider. Most of our uniforms are a mix of cotton and polyester. This makes them soft to the touch and durable.
Personalising your catering uniforms
To really put your mark on your catering uniforms, why not have them personalised with an embroidered badge or lettering? It's really straight forward to customise uniforms, with our embroidery button on the website. Simply select your preference and you're away.
As well as making a great impression to customers, studies have also shown that staff in branded uniforms also have more self-esteem and a greater sense of team identity. This leads to improved performance in their work. With text available for just £2 a garment, it's a great chance to add an extra flourish to your catering uniforms and make a telling impression on customers.