Browse our Hospitality Uniforms
At Catering Uniforms, we provide uniforms and work wear for a variety of purposes across the catering and hospitality sectors. Whether you're after chef whites, waitress aprons and suit for concierge staff, we'll have the hospitality uniforms for you.
Kitchen Uniforms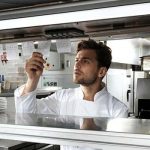 Our range of uniforms for kitchen staff includes everything you'll need to have your kitchens staff looking smart and dressed practically for the demands of a busy kitchen. We have the classic looking chef whites. These come in long and short sleeve variants. As well the typical double breasted fastening option, we can also offer pull on chef whites for ease.
With coloured chef jackets also available in long and short sleeve varieties and classic chef trousers and neckerchiefs we've really got you covered for hospitality uniforms for your chefs and kitchen staff. We even have the traditional tall chef's hat, to complete the look. Or, as an alternative to the chef's hat, we have the zandana and scull cap options too. Have your kitchen staff well presented in great looking uniforms at very competitive prices with Catering Uniforms.
Hospitality Uniforms for Waiting Staff
Your waiting staff are the face of your catering or hospitality business, and so their presentation is vital. Make a great impression with our smart range of clothing for waiting staff. With shirt in a number of colours, as well as in long, short and roll sleeve options to suit your needs, there are plenty of options to get your hospitality uniforms of to the right start.
We also have some excellent and practical apron options. With several different choices of length, and style you've got plenty of options to consider. We also offer some handy pocket options as well. These include our apron wallet. With portable payment terminals becoming more popular, these are a great solution for carrying them around whilst keeping your staff's hands free. Fastening to a belt, or with their own fabric ties, they make a great and useful to your hospitality uniforms.
Smart Suits for Hospitality Uniforms
For many hotels, having particularly smart concierge and reception staff is important to the way their business is presented. We have some great suit options as part of our range of hospitality uniforms. We offer both the more traditional jacket fits and pleated trousers, to slimmer fitting jackets and flat front trousers, as well as plenty of different tie colour options and styles. You'll be certain to find what you need to have your staff looking great with our uniforms.
Personalising your Hospitality Uniforms
Personalised uniforms can make a great impression on customers. We offer an embroidery service on many of our items, with an easy button on our website to add customisation. Adding logos to your clothing makes a professional impression and studies have shown that staff morale can be improved by personalised uniforms, boosting performance. Have a look at our range to find out more.