Browse our Restaurant Clothing Products
For those working in the catering sector, staff presentation is particularly important. As such, restaurant clothing is key to making the right impression on customers. With diners quick to make judgements on the professionalism and cleanliness of a restaurant from the appearance of staff, make sure you have the right uniforms to show your quality.
Chef Jackets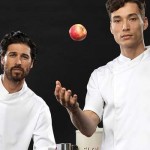 With many restaurants now opting for an open kitchen feel, your chefs are on display. Whilst this can create interest and intrigue for customers, it also means that you need to make sure your staff are not only practically dressed, but also highly presentable. At Catering Uniforms we've got a great collection of restaurant clothing to help.
Our chef jackets come in the classic chef whites style, with different fastening options. We can also offer both long and short sleeve varieties in our chef jackets. To keep your staff cool in the pressure of a working kitchen, our Coolmax chef jackets come with a specially designed mesh panel for superior temperature control.
Whilst most of our jackets are Unisex fits, we also stock some great ladies chef jackets options. These have a different panel construction for a more flattering shape. Again, these come in both long and short sleeves. For a dynamic modern look, our techni-colour chef jackets have a neat button fastening and come in plenty of different colour options. Match the style of your restaurant with your chefs jackets' colours and tie your restaurants brand together.
Restaurant clothing for Waiting Staff
With our selection of shirts and blouses we can offer a great start for your restaurant uniforms for waiting staff. With long, short and roll sleeve options for waiters, and a cap-sleeve option as well for waitress shirts we've got plenty of different styles to choose from. Our durable Poplin shirts also come in a wide range of colour options. Again, this is a great chance to tie your staff and restaurant décor together.
Our excellent and practical apron options are a handy addition to your restaurant clothing options. With several different length choices, as well as many different pocket options for pens and pads we've got you covered for restaurant aprons. Our Apron Wallet comes with its own fabric ties, or fastens to a belt. With portable payment terminals becoming ever more frequent, these are a great way to allow staff to keep hold of these on the go. Importantly they also allow staff to work with their hands free.
Personalised Restaurant Clothing
To make a great impression on visitors, why not look at having your restaurant clothing embroidered. Add a professional touch to your uniforms and give your restaurant an established feel by adding restaurant insignia to clothing. Studies have also shown this to improve the sense of team identity your staff feel, improving morale and performance. Just use our handy button on our website to add different options of embroidery to your restaurant clothing.