Browse Our Hotel Uniform range
With a variety of different uniforms required for staff positions in any hotel, keeping a consistent level of colour, brand identity and presentation can be a challenge. Luckily, we've a great selection of hotel uniforms ideally suited to use across the different roles from Kitchen to Gym.
Uniforms For Every Need
For Kitchen staff, we have a comprehensive collection of whites and jackets for your chef uniforms, with different choices of buttoning style, sleeve length, fit and colour to match the design, branding and colour scheme of your hotel.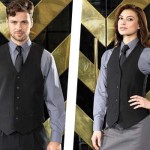 Our selection of aprons, blouses and waistcoats is ideal for uniforms for you waiters and waitresses, with smart and practical solutions including our 3 pocket aprons, perfect for staff needing to keep hold of customer orders whilst keeping their hands free at the same time. Our bar aprons come in a very wide range of colour options, including Aqua, Bottle and Emerald, Lilac and Hot Pink. This means you can match your colour scheme throughout your hotel. Make staff easily identifiable by customers and visitors as well as being part of the visual identity of the hotel.
Our full range of high quality suits and trousers provides different fit options, from classic jacket cuts, to more modern slim fit options. Make sure your concierge and desk staff are smartly presented. Again, with our selection of both fashion ties and coloured silk ties  you can match the your staff's uniforms to your brand colours.
Maintain this standard of appearance in your leisure and sport instruction staff too. We've a wide selection of colour options for our polo shirt, both long and short sleeve, along with our more casual wear. With men and women's fits, we've got what's required to kit out your gym and sports supervisors and instructors in line with the rest of your hotel uniforms.
Personalised Uniforms
Why not go the extra mile and have your uniforms branded with your logo or staff names and roles? If you're looking to create a consistent look and feel across your hotel uniforms, adding a brand logo helps present your hotel as an established name. Studies show that increased self-esteem and team identity improve the performance and mood of staff. We've a helpful embroidery button on all our items on our website, so it couldn't be simpler to add a personal touch to your hotel uniforms.
Get in Touch
We can offer free delivery on all order over £99. If you place an order before 3pm, we'll process it the same day and all our orders are sent via traceable courier. Get in touch with our team to see how we can help today.