Browse our Catering Clothing
At Catering Uniforms we're committed to supplying the best clothing products to outfit staff in the catering and hospitality sectors. If you're looking for Catering Clothing UK, Catering Uniforms can help. Customers and members of the public can make quick judgements about the standards of cleanliness and hygiene based on the appearance of the staff at hotels, restaurants and cafes, so ensuring that your staff really look the part is vital to making a good impression.
Chef Whites and Jackets
Our extensive collection of chef whites and jackets contains all you need to make sure your chefs and kitchen staff are presented in smart and practical outfits.
The traditional chef whites are part of the classic chef look. We have options for chef jackets in a whole variety of different styles. We've fold over jacket fastenings, pull on whites, round collars and the classic mandarin collar look.
If your kitchen's style requires a bit of something extra from the uniforms of your kitchen staff, then we have the technicolour option of jacket. This comes in a very wide variety of colours to match your colour scheme and restaurant branding. It also comes with both long and short sleeve options. Because the technicolour chef's jackets are created using colourfast, they'll hold their colour wash after wash, keeping your staff looking sharp and colours looking vibrant.
To complete the look, we also have traditional chequered trousers and tall chef hats. For a different choice of head ware, there's also the scull-cap or zandana.
Catering clothing for Waiting Staff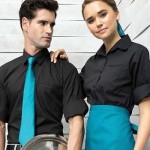 To present your waiting staff at their best, we have some great shirts, blouses and aprons for lot of different stylistic preferences and catering environments. We can offer men's and women's shirts in both long, short and roll sleeve options, with a special button tab to keep the sleeves neatly rolled. The women's blouses also have the option of the capped sleeve look, with the sleeve particularly short, covering just over the shoulder, a look that's typically common for bar and cafe waitresses.
We also have some great apron choices, with plenty of useful features for cafe and restaurant aprons, with pen pockets and pouches, as well as our Apron Wallet. These can be fastened to any apron by the apron waist ties or with a separate belt. These are ideal with portable payment terminals increasing in frequency.  Staff can have their hands free and carry payment equipment or order books around on the job.
For particularly formal restaurant or hotel settings, we've a range of suits and trousers. This includes both pleated and flat front cuts in the trousers. and traditional and more modern slim fitting cuts for the jackets. These are not only ideal for waiting and bar staff in a formal setting, but also other members of hotel staff such as concierges.
Catering Clothing UK – Get in Touch
We offer free delivery for all orders over £99 and if you place an order for catering clothing before 3pm, we'll have it processed for you the same day. All our order also come in a traceable courier, so you can track your order for peace of mind.